How to draw a huge artwork?
If you want to draw something like this: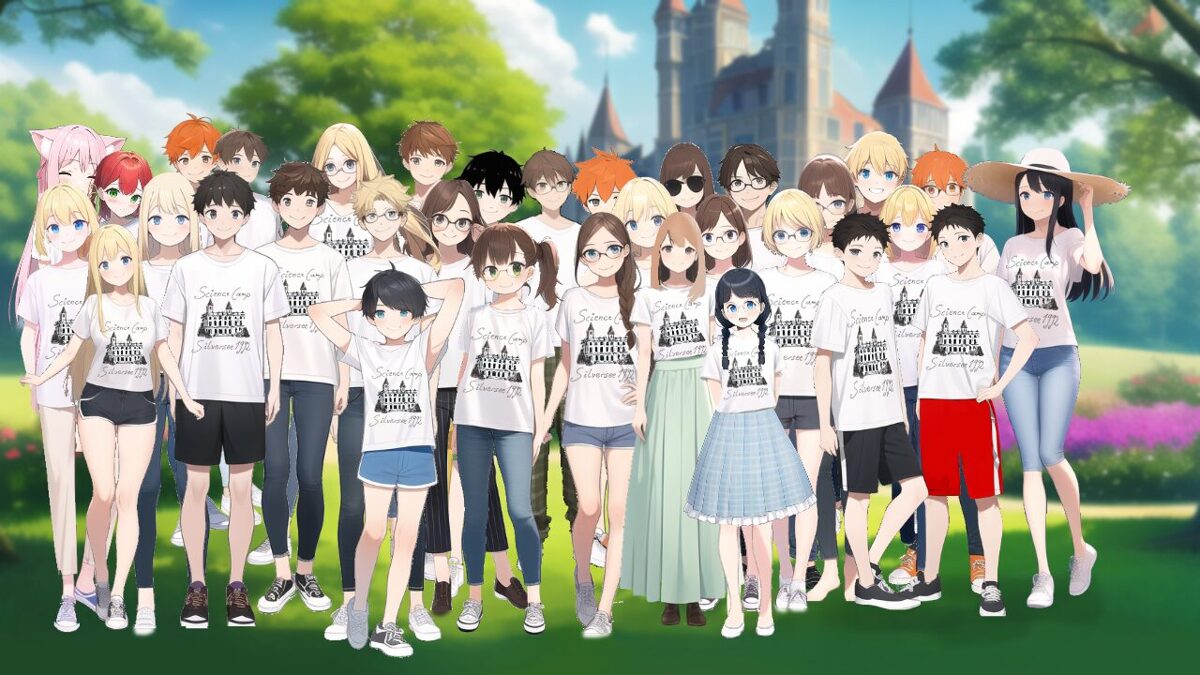 Then you can either pay a fortune to a human painter who will be busy for quite some time with this – or you do it simply by yourself with AI help: I will now explain you how to do such group pictures with ease, just using NovelAI and a tablet (e.g. an iPad) with a graphics software like Procreate (and optionally an Apple Pencil or a similar product).
How not to do it
If you try to do this directly with NovelAI, the AI will struggle:
The details of the persons will be off. – There is just too much going on for the AI to keep track off!

The number of persons cannot be controlled.



You cannot control how the single persons look like. At the end they will likely look rather similar.
In this example, the white T-shirts were desired, but not that everyone has black hair. There also too few persons. And this was the best picture I got after quite some trying: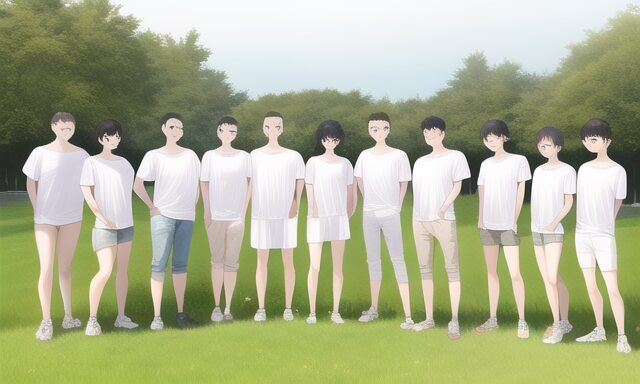 In conclusion: that's NOT how you should do it!

How to do it
Compose the game from an AI generated background and a number of Ai generated persons! It is sufficient to use the lowest resolution for the persons (upright format). You don't have to be specific for the tags, just use generic ones like

full body, teenage girl, standing, white t-shirt, simple background, smile,jeans,blond hair,long hair,glasses

or

full body, teenage boy, standing, white t-shirt, simple background, smile,light blue shorts,black hair,short hair,arms up


You see that you only change a few things at the back of the list (the less important tags).

Make sure that the pictures all have the same perspective, as sometimes pictures show a person from slightly below or above and that would throw off the group composition. (I haven't found a tag that controls that, unfortunately.)

After producing a bunch of persons, you need to remove the backgrounds. Don't fret too much about details there yet, as most won't be visible at the end. (The persons cover up persons standing further back anyway.) Ideally, you produce the pictures already in the desired size (or at least larger), as resizing will reduce the sharpness of the pics and therefore the overall effect.

The background, however, you can blur with Procreate (or any other software).

When arranging them, you will notice some problems: AI-misformed hands or body parts can often be send to the back row, sometimes you will have to hand-paint here. Feet are more problematic. You need to make sure the persons do not stand on each others feet and that their feet actually look reasonable.

The picture gets better if you add some shading to the ground. I could have also added some foreground, covering the persons a bit, like some low flowers or bushes. Maybe that would have made the picture better, but I forgot that.

Here's a video about the whole process. Super-fast, but still instructive to get an overview. And now have fun to do your own group picture!

Video of this group picture's making








No comments
Leave a reply