Progress on the AI art work
Here's some brief summary of what works well with NovelAI and what doesn't. It might come handy for you if you want to try out a similar project...

Works well:
Landscape, science fiction or fantasy backgrounds – if consistency is not an issue

Pictures of cute animals
Works with some extra work:
Character sprites: you will have to fiddle around with them, copy-paste and redo parts of them etc. I have already explained a bit about it and will add some more detailed guide on this later.

Backgrounds that require consistency, e.g. the same building from different perspectives. Here you need either to allow for a lot of leeway or draw a lot manually.

Does not work well (so far):
Showing the same person in completely different poses to produce a CG, e.g., a girl that has fallen on the floor is difficult to produce and will at the end look very differently than the original version, in particular regarding her clothes.
Having several defined characters on one picture, interacting with each other. – It is, however, possible to produce such pictures by adding the characters manually into one picture. This will limit the possibilities for interactions, though. There are some possible workarounds, but I haven't tried them yet.
Highly artistic or creative ideas, e.g., a picture of flowers on the moon. Other AI (like Midjourney) are much better suited for such tasks. NovelAI, however, excels when it comes to anime graphics that are somehow in the usual range of motives: a picture of a full moon on a landscape with trees and flowers, e.g., will easily look really pretty.
NovelAI cannot paint what it doesn't know! Example: I have tried to let it paint an old-fashioned telephone. The result was super funny: it looked like a futuristic smart phone, shaped a bit like a traditional phone. You will have to add these things differently.
The production process is not entirely suitable for underaged, as NovelAI occasionally and unintentionally produces very inappropriate pictures. Such results are not always predictable. Sample pictures on the internet that one can use to learn about appropriate prompts for instructing the AI what to do, are also often horrendous. Be warned about this in advance! This is, however, by no means a limitation to the final result: as you see here, the results can clearly be fine for all ages.
And here are some sample images of character sprites that I produced with NovelAI and a lot of manual work. Not perfect, but I've seen worse in published visual novels. (And for somebody like me who is definitely not an artist good enough, this is even impressive, I would say...)

I have to improve one more main character for "Sweet Science" and then I can put together the demo... Stay tuned and subscribe to the mailing list!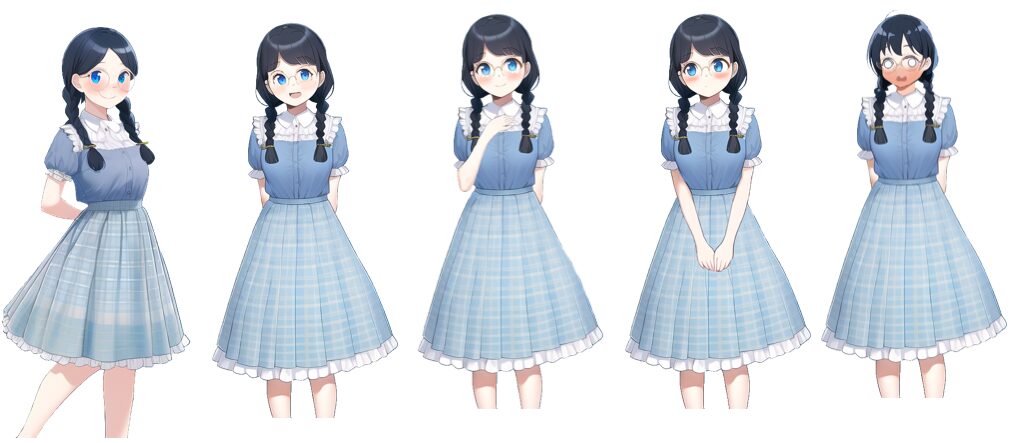 No comments
Leave a reply